At Fitrite, we understand that your bedroom and decor is a reflection of your personality and style, and we're here to help you personalise it to perfectly fit your taste. We have an extensive collection of knobs and handles, both classic and modern, that are sure to make your wardrobe stand out while providing a functional purpose. Whether you're looking for something traditional or something a bit more daring, we have a diverse selection to choose from.
Our Leamington Spa showroom, with easy access from the surrounding areas within Warwickshire, features a premium range of handles, adding the final touch to your bespoke wardrobe. Each product is made from the highest quality materials, ensuring they will serve their purpose for years to come. Our knobs and handles are also designed with convenience in mind; each piece is easy to install and can be adjusted to fit your doors and drawers.
A wardrobe aesthetic that is currently dominating the market is the handleless, bespoke sliding wardrobes that offer a sleek, contemporary effect, however there are many people who still favour the traditional handled doors due to their practicality. At Fitrite, we incorporate the functional handles & knobs with a modern approach, allowing these useful additions to your furniture to not only effectively assist with opening and closing the doors but to also look as great as their handleless counterparts. 
With an array of shapes & sizes to choose from, along with our huge selection of bespoke fitted wardrobe designs, the customisable options are endless. Take full control of how your ideal bedroom or living space is going to look, whether you want the minimalist style or an eye-catching, eclectic approach, Fitrite has a design to suit every taste.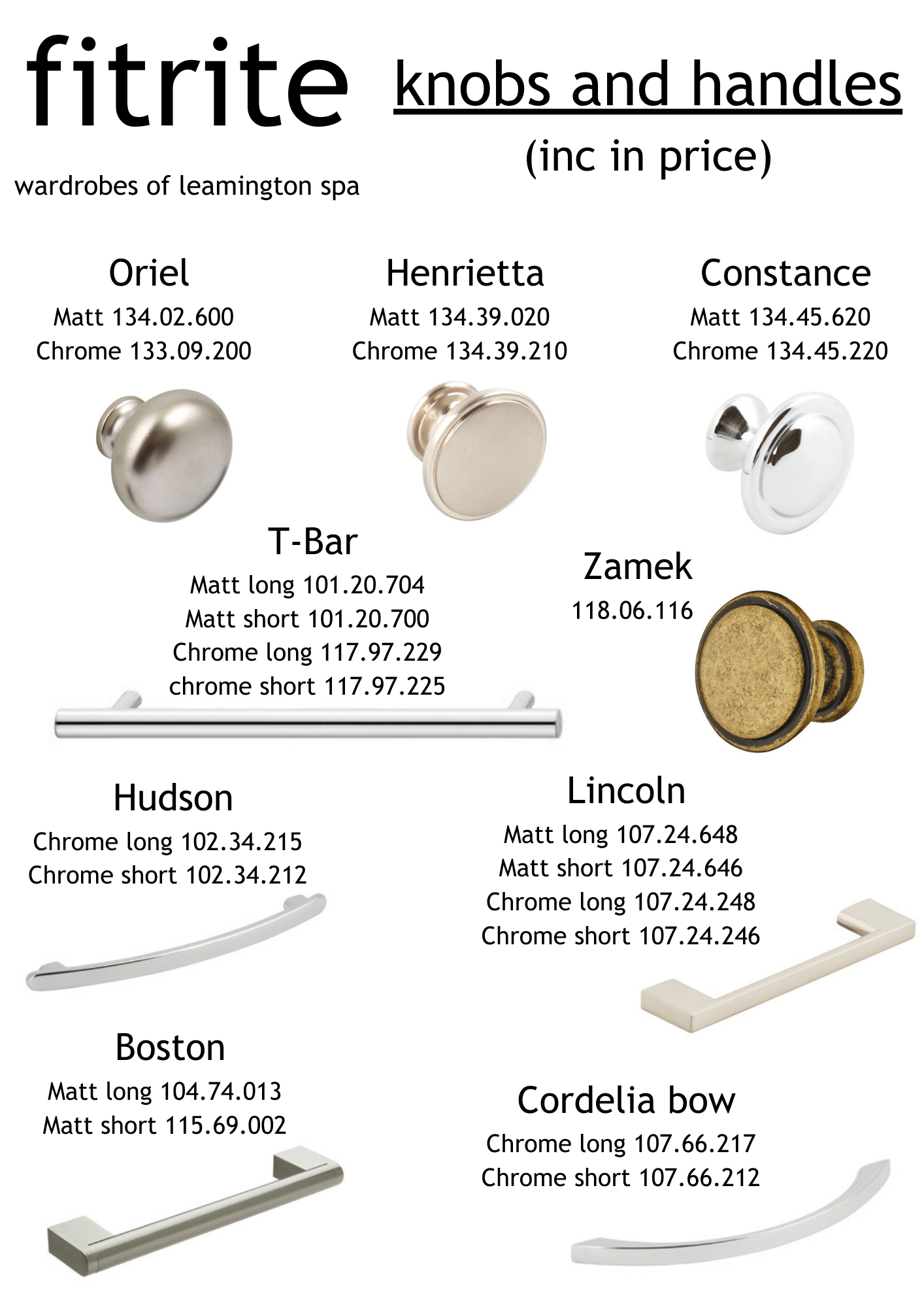 High-Quality Products, Affordable Prices
We're passionate about helping you create the perfect wardrobe, and we're proud to be the go-to source for bespoke built in wardrobes and custom knobs and handles in Leamington Spa. We invite you to visit our showroom to get a feel for the quality of our products and see our extensive selection of premium products. Whether you're looking for something a little more classic or a totally modern composition, we're sure you'll find the ideal pieces to make your wardrobe stand out. If you have an idea for a particular look, we can work with you to make it a reality. Our team of expert craftsmen will ensure that your chosen handles complement the wardrobe design and are fitted to be durable and practical.
Our Leamington Spa based business takes pride in our customer service, always striving to provide the best experience possible. We are happy to answer any questions you may have and offer personalised advice to help you make the right decision when planning your wardrobe upgrade.
Our selection of wardrobe knobs & handles are included in your quote, and we can be sure to have an option for everyone. If we happen to not feature a style you desire, we can access the millions of styles that are available online and you can purchase a theme that suits you, or alternatively, we are happy to fit handles and knobs that our clients supply.
Thank you for considering Fitrite for your bespoke wardrobe needs. We look forward to helping you create the perfect wardrobe! Get in touch with us today to learn more about our products and services, we are happy to offer our guidance and advice and help you move forward with your bespoke wardrobe design.
Phone: 01926 312 654 | Email: sales@fitrite.co.uk