Expertly Crafted Fitted Sliding Wardrobes
At Fitrite, we create beautifully crafted sliding wardrobes for homes across England. We are experts in bespoke sliding doors for replacements or brand-new installations for your home or business. Whatever your specifications and requirements, our expertise is drawn from over 35 years of experience working on a range of projects for a variety of different customers.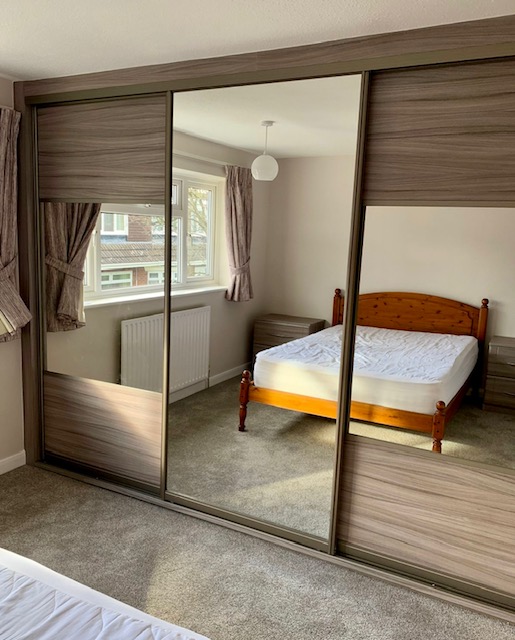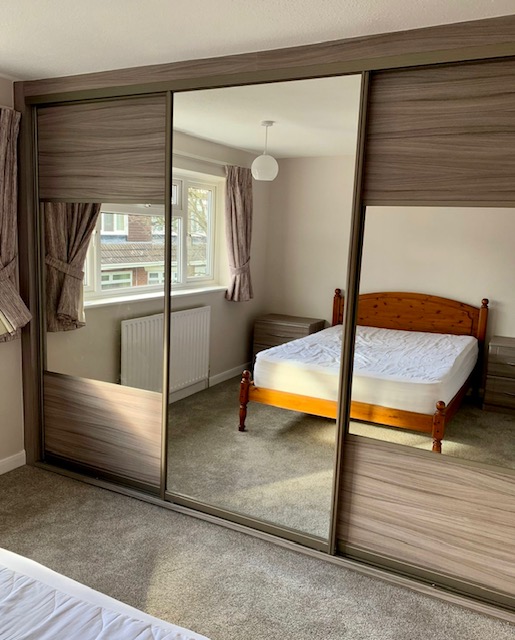 Expertly Crafted Fitted Sliding Wardrobes
A sliding wardrobe is one of the simplest ways to incorporate a stylish but functional storage solution in your space. Whether you're hoping to install a sliding wardrobe in your bedroom, or you're replacing your existing doors for greater accessibility, at Fitrite, we are here to provide you with that nifty solution you have been looking for.
Our bespoke sliding wardrobes are designed to order, to fit within your unique space. Perhaps you're working with an oddly shaped room, or you can't seem to find the colour of wardrobe door you are after on the high street, choosing our custom sliding doors will allow you to make those personal touches to your fitted bedroom furniture.
To start discussing the ideas you have for your sliding wardrobe, get in touch with our experts for a quote today. A tried and tested range of sliding wardrobes that will complement any bedroom. Being manufacturers, not only can we make mirror doors to any size, but we also offer a large range of panel and glass colours. Materials can be mixed by combining in "split doors".
A tried and tested range of sliding wardrobes that will complement any bedroom. Being manufacturers, not only can we make mirror doors of any size, but we also offer a large range of panel and glass colours. Materials can be mixed by combining in "split doors". Frames are all vinyl wrapped in a wide choice of colours and finishes. The aluminium track and stiles are offered in a choice of 5 colours, silver-white black champagne and graphite.
Some people express concern about the smooth running of sliding doors, and whether they will be trouble-free. By constructing our own infills, returns and base we ensure that all the tracks are level and parallel.
Combine this with the smooth running nylon wheels and a deep top track and the doors run easily with light finger pressure. All the mirrors used are safety backed and conform to British standards. Floor to ceiling style doors allows the storage space concealed behind to be organised efficiently. All interiors can be tailor-made to suit individual requirements using shelves hanging rails and even internal drawers. Sliding doors are not only stylish but are very valuable for their space-saving benefits in smaller modern bedrooms.
Bespoke Sliding Wardrobes
If you've got an unconventional space in your home, need a replacement, or just want a sliding wardrobe that fits perfectly in your bedroom, we can design, manufacture, and install bespoke sliding wardrobes that are built-to-last, designed to withstand day-to-day wear and tear, and make great use of storage space to reduce clutter.
We manufacture a range of materials for you to choose from for your sliding wardrobes designed by experienced designers, manufacturers, and fitters who can make your dream bedroom a reality.
Create Your Dream Bedroom
As your local bedroom furniture specialists with close attention to detail and great customer service, we'll listen to your desires and ambitions to make sure that you're happy with the final result. If you're unsure, we can offer expert advice and support to walk you through the best options that suit you, your home, and your budget best.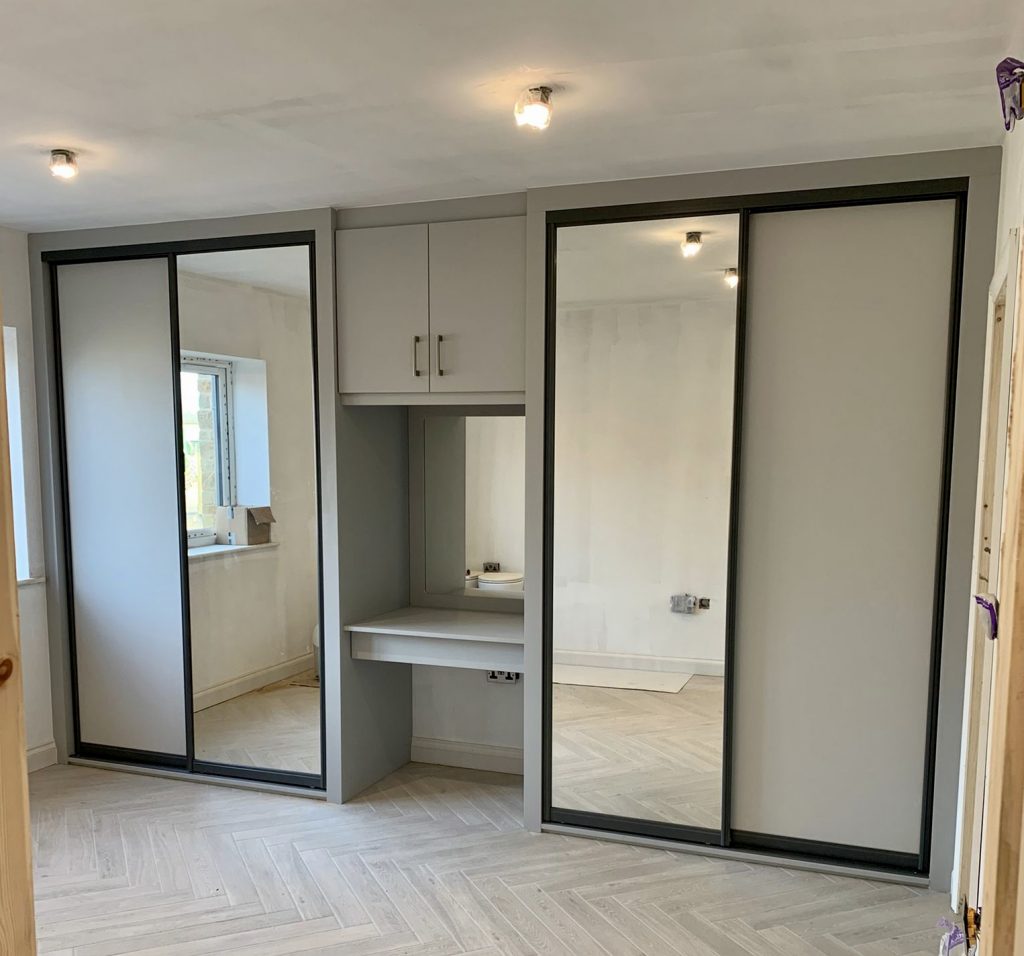 Absolutely delighted with our new wardrobes and understairs storage. The quality is excellent and they look beautiful. The Fitrite team were great at helping me design exactly what I wanted and have created useful and stunning storage in our home. Cannot fault the service, comms, product and price. Highly recommend.
Looking around the show room for wardrobes and saw just the design and style I wanted. I had some extra suggestions and good advice from Mike during the design once he had measured the area. The wardrobes look great, top quality product, soft closing doors and fitted beautifully to allow for curtain fittings, sockets etc. Very professional! We are extremely happy with the result. I have no hesitation recommending these guys to install wardrobes of your choice.
Excellent service and a quality product! Just had a wardrobe fitted and looks amazing, surpassed expectations. Team were (very) punctual, friendly and asked for us to call them if we had any issues. Would definately use again. Price was also lower than the other two quotes I received. Only downside is there is a bit of a wait to get them installed but guess that's probably a sign they're doing something right 🙂
Why Choose a Sliding Wardrobe?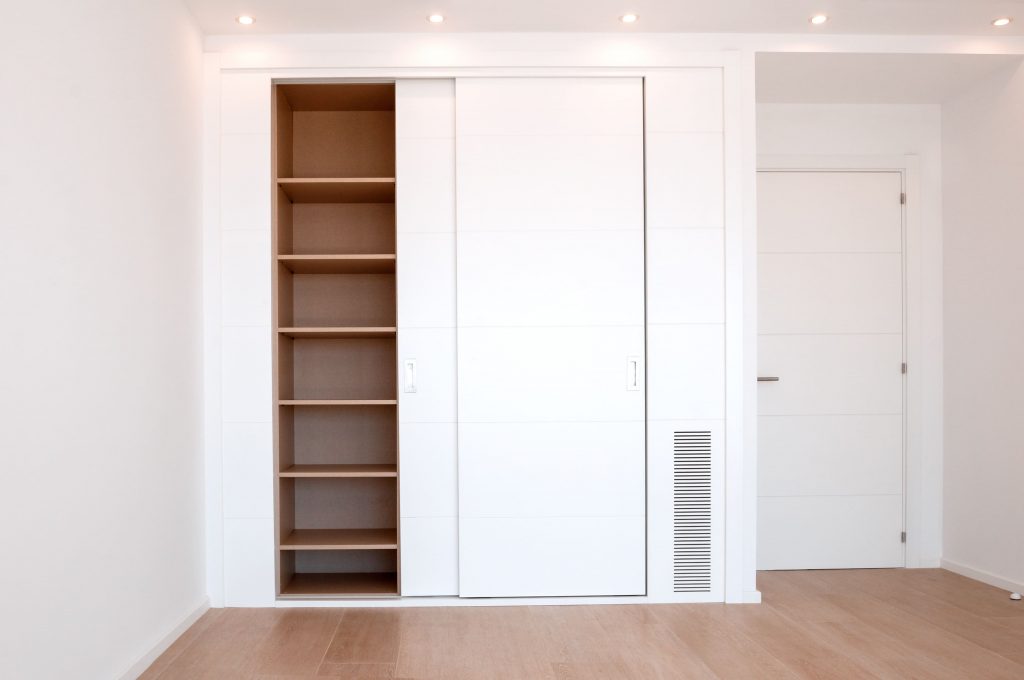 Our sliding wardrobes are built floor to ceiling and wall to wall (or end panel) with no set width restrictions.
Doors are manufactured to the exact size required rather than a standard size door with fillers making up the difference, giving you maximum access to the interior.
Choose from a range of colours for the frame work from over 40 board colours in either contemporary or Natural vinyl wrapped style.
Metal work now comes in 5 different colours. Choose from Silver, White, Black, Champagne or the newly launched Graphite.
Door panels can be made to reflect your individual style with full panel timber inserts, full mirror, or coloured glass. Often doors are split with dividing rails allowing you to mix colours or materials – the possibilities are endless.
Whatever the size of your room, or the colour and finish you'd like to achieve, call the team at Fitrite today who will be happy to help design your dream sliding wardrobe.
To get started with your new project, get in touch with the team at Fitrite and we'll discuss your options with you. We offer a range of bespoke services, so it's important to us that we take the time to learn about you, your specifications, and your style preferences.
To get in touch, leave us an email at sales@fitrite.co.uk, call us on 01926 312 654, or fill out our online contact form, and our friendly team will get back to you as soon as they can.