We offer fitted wardrobes, fitted bedrooms and fitted home offices of premium quality at the best prices available in the fitted furniture market place.
We pay attention to every detail, for a quality product every time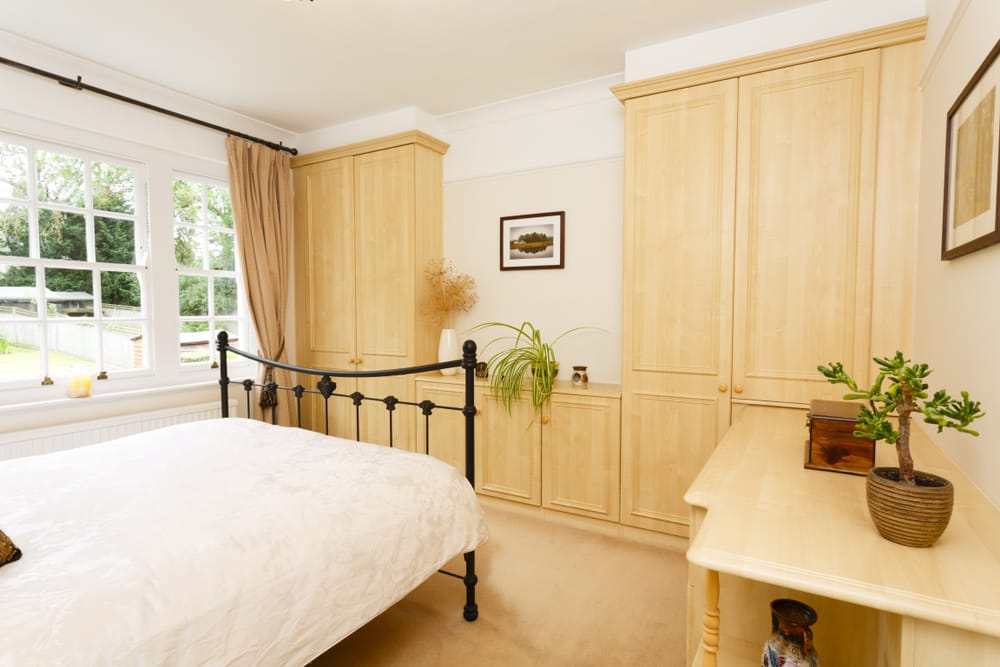 We Provide The Best Service In Industry
If you like the sound of what Fitrite can offer...
why not call us today to begin the process of planning your new home office or bedroom design?
View our great collection of testimonials from some of our happy customers.
Dear Fitrite,
Just to say a big thank you to Andy & Geoff for making a fantastic job of the fitted wardrobes in our box room. We were delighted with the result and the guys worked really hard all day. Also thanks to Mike who came out to our home to measure and design the room.
We have so much storage space now!! + will certainly recommend you to friends and family.
Thank you very much
Dear Fitrite,
To all concerned we write to thank you for our new fitted office.
From our first visit to see your show rooms in Leamington containing a wide choice where we received good friendly advice, then the very professional and patient visit by Mike to our home to decide on the plan which was beautifully drawn etc. and finally yesterday when we met carl and Geoff our hardworking and very pleasant fitters – particularly as it was a first floor bedroom being adapted – lots of going up and downstairs!!!
From beginning to end a job really well done. We shall certainly have no hesitation in recommending you to anyone requiring an office.
Dear Fitrite,
I am writing to say "thank you" to Mr. Ledger and your team of Fitters for my beautiful fitted wardrobes.
I am delighted with them! They have made two rather plain rooms into two very smart bedrooms! I greatly appreciated the assistance provided by Mr. Ledger whilst I was designing my wardrobes and choosing the style and colour and your team of Fitters were punctual, efficient, polite, pleasant, cheerful, hardworking and very tidy.
No "clearing up" was required after they had finished! Both Mr. Ledger and your Fitters are great ambassadors for Fitrite and I have already recommended your company to two of my friends.
It was a pleasure to be one of Fitrite's customers. I am most thankful that Fitrite was recommended to me! With kind regards to everyone involved for making my home a nicer place in which to live.
Dear Sirs,
On the 9th February, your firm fitted new panel doors and end panel to replace our existing wardrobes. I now have to admit to having a problem.
I still can't find anything wrong with the workmanship or the service, against my rigorous checklist, as following notes confirm. Site visit by designer on 17th Jan. arranged for 2:30.
No-one ever arrives at the time promised, do they? He did! Designers always try to sell you something you don't really need, don't they? He didn't! You always face a 'hard sell' when you visit a showroom don't you? We didn't! We places an order, but phoned through a couple of modifications.
These were bound to be forgotten when the materials arrived on the day of installation, because they always are! They weren't! Fitters always make a mess of the site, and find reason why the job can't quite be done properly. Yours didn't! The finished job is never quite as well finished as hoped for, is it? This one was! You can see my problem, can't you? However, to avoid complacency creeping in and to give me some peace of mind, I have to report to you that on the day of installation, your team, who were due to arrive at 8:00am were approximately 75 seconds late, so there is room for improvement there! Well done and thank you all
Dear John
Jayne & I are so impressed with the two bedrooms you have transformed for us we just have to put pen to paper. We first used Fitrite twelve years ago and once again you have surpassed yourselves. The quality of work is exceptional. What highlights the Fitrite service for us is the impression you give from first walking into your Leamington Showroom, dispatching Mike to measure and advise the most suitable units for our application, at which we might add, his design of the office/dressing room installation not only impressed us but has impressed all who have seen it. Your fitting staff further compliment the Fitrite Team and are the tidiest, helpful and most skilled tradesmen we have seen for many years. Thank you for an excellent service John we have no hesitation in using or recommending Fitrite again. Yours sincerely